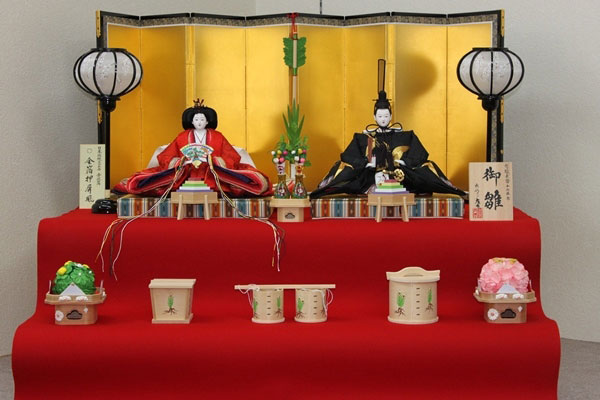 Suruga-hina doll
Suruga hina ningyo
Brimming with a sense of prosperity and affection
Hina dolls dressed in gorgeous and luxurious garments made from beautiful materials

Description
What is Suruga-hina doll ?
Suruga Hina Dolls are made in Shizuoka City and the surrounding area in Shizuoka. The characteristic of Suruga Hina Dolls is the size. They are bigger than other dolls because thick rice straw is used to form the body which is the center of the doll. It is said that Shizuoka City and the surrounding area were famous for rice production so rice straw was readily available.
The garments for the dolls are made separately for the upper part and lower part which gives a more voluminous and gorgeous appearance when finished. The production of the upper part and lower part of these dolls can also be carried out separately enabling division of labor that makes mass production possible. Suruga Hina Dolls represent a 70% share of the total production of the bodies of Hina dolls in Japan which is more than that of the Kyoto Hina Dolls. The process in making Hina Dolls that requires a doll-maker's skill the most is called 'Furitsuke' (arrangement of the posture) in which the doll's arms are carefully bent. How the arms are bent shows the characteristic of the doll-maker and an expert can identify the doll-maker by looking at the posture of the doll's arms.


History
The remarkable work of Suzuki Harunobu, who is regarded as the founder of nishiki-e, fueled the increasing demand for the prints.
General Production Process
See other Dolls, kokeshi
See items made in Shizuoka