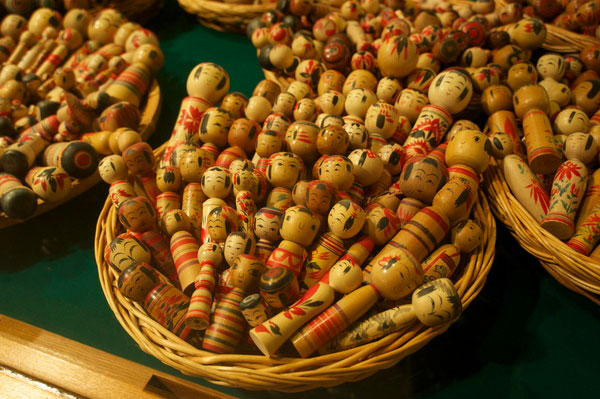 Miyagi kokeshi doll
Miyagi dento kokeshi
Traditional unique techniques manifest themselves
In the shape and painting of Kokeshi dolls

Description
What is Miyagi kokeshi doll ?
Miyagi Dento Kokeshi refers to wooden dolls which are produced in and around Sendai City and Shiraishi City, Miyagi Prefecture. Categorized by region into five styles such as Naruko kokeshi and Toogatsuta kokeshi, Miyagi Dento Kokeshi gained a national recognition as traditional craft in 1981.
It is characterized by its charm and simple figure with only a head and body. Even with a simplified form, each kokeshi doll is one-of-a-kind featuring the distinctive style and design that represent the region. The kokeshi manufacturing techniques, kokeshi figure and designs were handed down only within a family or from master to student, developing uniqueness in respective styles. There are restrictions on kokeshi production to uphold tradition of each kokeshi type.
Miyagi Dento Kokeshi adopts continuous production carried out by a single artisan, from timber conversion, painting through final finish, allowing the artisan to impart his individuality to kokeshi dolls while observing tradition.

History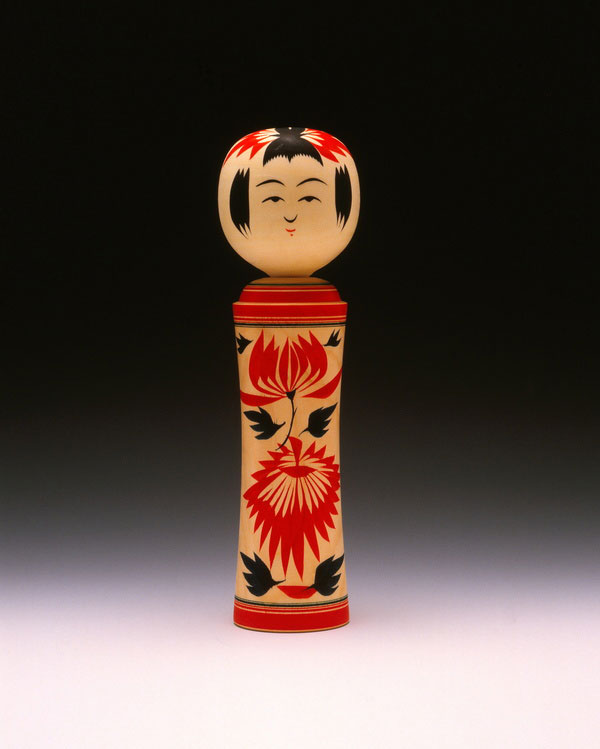 The Hyakumanto Towers (pagodas), where Daranikyo Sutras were stored, were built 1300 years ago during the Nara Period at the wish of Empress Shotoku (her reign was 718 - 770) for national prosperity. The Hyakumanto Towers are reckoned as the oldest kokeshi dolls.
The woodturning techniques were introduced to Omi Province by Imperial Prince Koretaka (his reign was 844 - 897), and eventually trained woodturner (Kijishi) settlements were dotted all over Japan, leading kokeshi dolls to widespread acceptance. During the Azuchi-Momoyama Period (1573 to 1603), woodturners settled in the Tohoku region and produced kokeshi dolls, which were forerunner of Miyagi Dento Kokeshi.
Of the five styles, Toogatsuta kokeshi is said to have been first produced and have become popular in the Toogatsuta hot spring resort. The woodturners of the mountain villages made wooden livingware such as bowls, ladles and trays to sell to people visiting the hot springs. Meanwhile, they used their woodworking skills to make dolls for children and grandchildren. The dolls began to sell as toys and souvenirs to the hot spring visitors and attracted widespread popularity even among adults as Miyagi Dento Kokeshi dolls in the middle of the Meiji Period.

General Production Process
Where to Buy & More Information
Zao Dento Sangyo Kaikan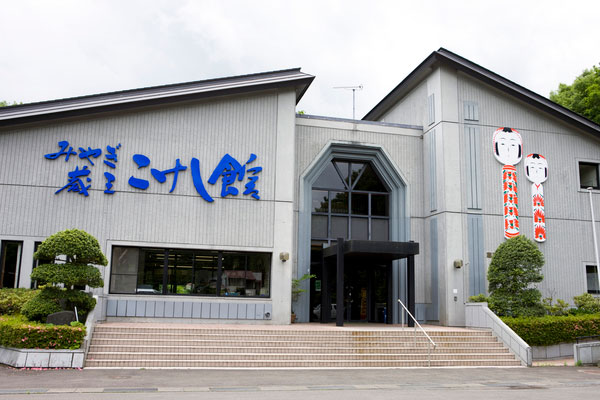 Address

Tel.

+81-224-34-2385

Closed

Around the New Year

Business Hours

9am to 5pm

Website
See other Dolls, kokeshi
See items made in Miyagi