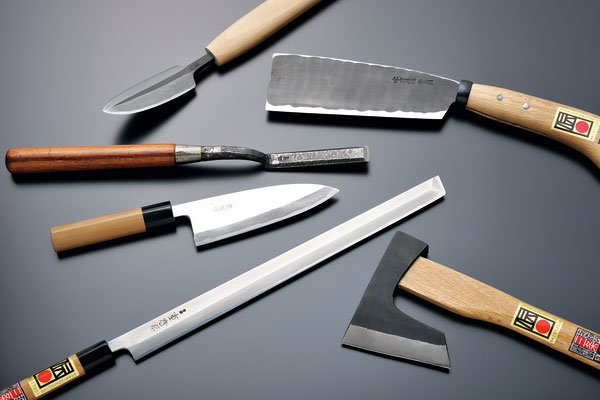 Photo:Niigata Prefecture
Echigo-sanjo cutlery
Echigo sanjo uchihamono
High quality hand-forged blades
Made by traditional master craftsmen

Description
What is Echigo-sanjo cutlery ?
Echigo-Sanjo Uchihamono are hammer-forged blades produced in Sanjo City, Niigata Prefecture. Unlike modern blades made using the stamp pressing and polishing techniques developed in the post-World War II period, these blades are produced by hand-hammering and applying time-honored Japanese metal working techniques. Originally, farming tools were made, but nowadays, a broad range of cutting tools are produced, such as everyday kitchen knives and scissors, or hatchets and chisels.
Echigo-Sanjo Uchihamono are distinguished by the high-standard of forge work in which red-hot metal is beaten and shaped. This forging technique enables easy shaping, and increases the blade's strength by ensuring no micro spaces in the inner part of the metal, resulting in a high degree of strength and abrasion resistance. Of course, in keeping with the times some machinery may be used in the production process today, but the highly-skilled work such as preparing each individual blade edge is carried out by hand to maintain the traditional high quality finish.

History
Finally, multi-color woodblock printing became a significant part of the mass culture of Edo, and many artists were attracted to the medium resulting in the prolific production and sales of woodblock prints.
General Production Process
Where to Buy & More Information
Sanjo Kaji Dojo
Address

Tel.

+81-256-34-8080

Closed

Mondays (open if Monday is holiday and closed the next day), December 29 to January 3

Business Hours

9am to 5pm

Website
See other Metal works
See items made in Niigata