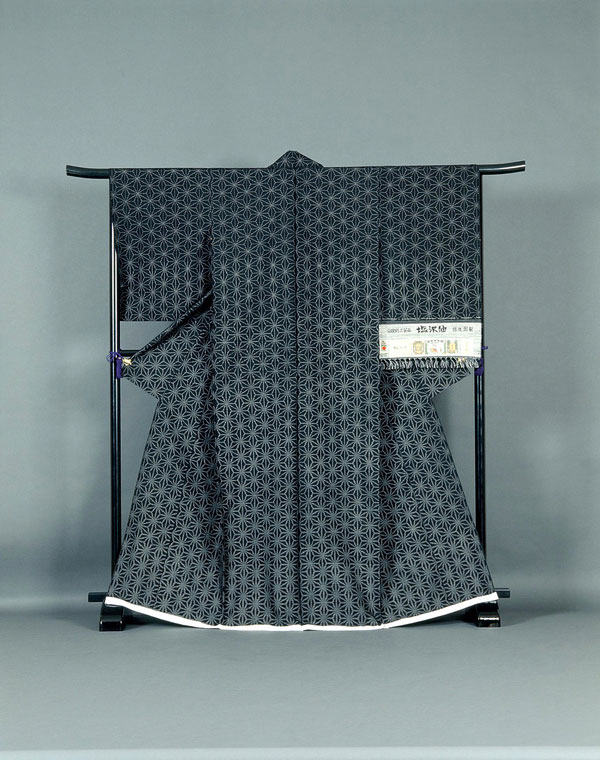 Photo:Niigata Prefecture
Shiozawa tsumugi silk
Shiozawa tsumugi
Serene kasuri patterns, a traditional craft technique
Hand-woven silk threads bring out the most elegant radiance and texture

Description
What is Shiozawa tsumugi silk ?
Shiozawa Tsumugi refers to a silk textile produced around Uonuma City, Niigata Prefecture. Uonuma is an area known for its heavy snowfall and the wet winter climate is ideal for weaving. Echigo Jyofu, a linen fabric, has been produced in this area since the Nara period (710-794AD). Shiozawa Tsumugi was first made in the mid-Edo period (17th century) using the centuries old Echigo Jyofu techniques. Shiozawa Tsumugi uses raw silk or dupioni raw silk as the warp and hand-spun floss silk yarn as the weft.

The main characteristics of Shiozawa Tsumugi are the patterns created by gathering the warps; these patterns include kagasuri (an extremely fine pattern), cross kasuri and turtle kasuri. The fabric is single tone in cool shades, mostly navy blue or black with white, white and navy blue or black kasuri patterns, which create a quiet and dignified impression. It simultaneously has the softness and brilliance of dupioni raw silk with the rough texture of pongee (Tsumugi). Shiozawa Tsumugi feels lighter and smoother than other kinds of pongee.
Other fabrics are woven with the same Echigo Jyofu techniques including Hon-Shiozawa with Shibo and Natsu-Shiozawa which is ideal for summer.

History
The production of linen fabrics has long been a successful industry in the Shiozawa area, and it is particularly known for the fabric called Echigo Jyofu. Shiozawa Tsumugi, a silk fabric produced using the technique of Echigo Jyofu, was born in the mid-Edo period. Shiozawa Tsumugi is known as one of the Three Tsumugi in Japan and UNESCO designated Shiozawa Tsumugi as an intangible cultural heritage in 2009. The very fine kasuri pattern is the main attractive feature of Shiozawa Tsumugi and it holds a dominant 60% share of all Shiozawa fabrics currently produced. In its golden age, there were many manufacturers but numbers have decreased in modern times, giving Shiozawa Tsumugi a very high scarcity value.
General Production Process
Where to Buy & More Information
Shiozawa Tsumugi Pavilion
Address

Tel.

+81-25-782-4888

Closed

Around the New Year

Business Hours

9am to 5pm

Website
See other Woven textiles
See items made in Niigata