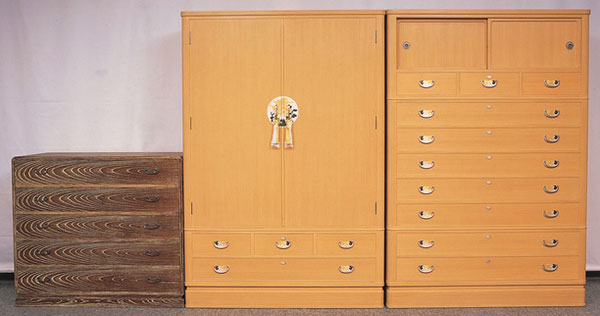 Photo:Wakayama Prefecture
Kishu traditional chest
Kishu tansu
Perfect for storing clothes
Beautiful wood grain patterns and the texture of paulownia

Description
What is Kishu traditional chest ?
Kishu Tansu are masterpieces of traditional woodwork made in an area around Wakayama City, Wakayama Prefecture. Kishu Tansu are so called because the manufacturing technique was established in Kishu, now the current day Wakayama Prefecture. As high-quality tansu with both beautiful ornamentation and durability, Kishu Tansu are highly-rated storage furniture.
Kishu Tansu are characterized by the use of paulownia wood, ideal for storage furniture, and its delicate construction and assembly methods passed down from olden times. Paulownia is a soft wood with a beautiful pale yellow color and attractive wood grain, comfortably at home in both Japanese- and Western-style rooms, and known for creating an elegant and serene atmosphere. Paulownia is a very stable wood with little distortion or warping, making it possible to use Kishu Tansu for a long period of time. Paulownia has the nature of absorbing moisture in humid weather and releasing moisture when the air is dry; it also has low thermal conductivity. These properties make paulownia ideal for storing clothes which are sensitive to changes in moisture and temperature.

History
The origin of Kishu Tansu is unclear, but it is sometime before the 1840s. According to the Nanki Tokugawa shi describing the history of the Kishu Tokugawa family, in the late Edo Period in 1846, the Wakayama Castle tower was hit by lightning and many tools were burnt in the ensuing fire. When the castle tower was rebuilt in 1850, records show that fire-damaged furniture, such as nagamochi (large oblong chests), were repaired; it is reasonable to infer manufacturing techniques of such items already existed in the area at that time and presumably earlier.
Records relating to the making of Tansu in the same decade have also been found in several town houses in Wakayama Prefecture, clarifying that Tansu were used as bridal dowries, even in common families and not just samurai families. Tansu with characteristic fittings believed to be manufactured in the Edo Period have been found in many merchant's houses. It can be assumed from these facts that the manufacturing techniques of Tansu had already been established in the late Edo Period around the area of the current Wakayama City. When the transportation network was improved in the Meiji Period, it became possible to meet demand from the Osaka region in addition to that of the local area, which led to a rapid increase in production.

General Production Process
See other Wood, bamboo crafts
See items made in Wakayama