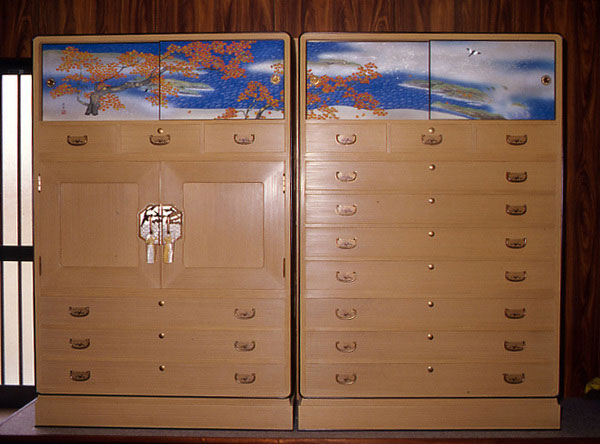 Nagoya traditional paulownia chest
Nagoya kiri tansu
Beautiful paulownia and high-quality materials
Traditional techniques ensure decades of use

Description
What is Nagoya traditional paulownia chest ?
Nagoya Kiri Tansu (paulownia chests of drawers) are masterpieces of traditional woodwork made in an area around Kasugai City and Nagoya City, Aichi Prefecture. Nagoya Kiri Tansu are traditional craftwork originating from when Nagoya Castle was built in 1610; they are a popular and indispensable item for dowries. Nagoya, in particular is known for its regional custom of spending large sums of money on dowries. For this reason, Nagoya Kiri Tansu have been much appreciated as luxurious articles perfect as gifts for such auspicious occasions.
Nagoya Kiri Tansu are around 20 cm wider than the Tansu of other regions and have a luxurious and splendid finish with gold leaf paintings on the surface and fittings chased with gold and silver. Paulownia is an ideal wood for chests which can be used for generations as they are heat and moisture proof and repel insects; indeed some families are still using their paulownia chests of drawers which were made some 200 years ago. Nagoya Kiri Tansu, much loved for many generations, were designated as a traditional craft by the Minister of Economy, Trade and Industry in 1981.

History
In olden times Tansu were not needed since common folk did not have any extra clothes to store; shelves first appeared as furniture for storing kitchen utensils in the Kamakura Period, and isho tansu (wardrobes) finally started to be made in the Edo Period. In the 17th century, as the demand for cotton fabrics and the like rapidly increased, more clothes were made giving rise to the need for storage chests.
It is commonly said Nagoya Kiri Tansu were first made by artisans building Nagoya Castle. After the Tokugawa shogunate unified the whole country, society stabilized and trade and commerce prospered; with more money to spend the demand for high-quality clothes increased, resulting in the spread of high-quality Tansu as furniture for storage. In Nagoya, high-quality Tansu used to be an indispensable item for dowries, although today this custom is slowly dying out; there is also the current problem of a shortage of successors for the artisans to pass on their traditional skills.

General Production Process
See other Wood, bamboo crafts
See items made in Aichi