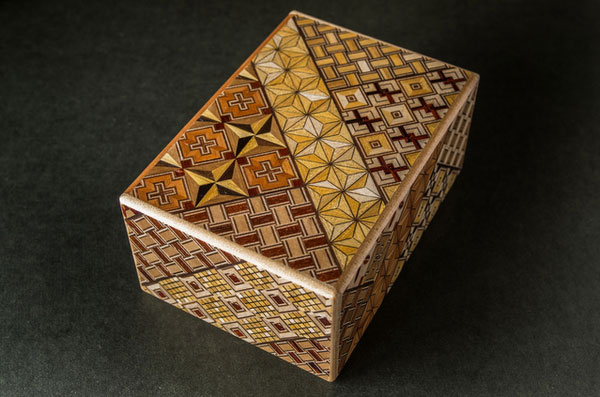 Hakone wood mosaic
Hakone yosegi zaiku
Made of trees from Mt. Hakone
An endless array of charming geometric mosaics

Description
What is Hakone wood mosaic ?
Hakone Yosegi Zaiku is a form of marquetry produced in Hakone Town, Kanagawa Prefecture, an area renowned for having the most natural environment in Japan, as shown by the rich variety of tree species found on Mt. Hakone. Such abundant raw materials allow craftsmen to make the very best use of a wide palette of wood colors by combining the delicate shades and tones to create a variety of eye-catching patterns. Traditional motifs found in other craftwork such as kimono or washi (Japanese paper) also appear in the Hakone Yosegi Zaiku pattern book and include such iconic designs as geometric key or hemp-leaf patterns, and fletched arrow or ocean wave patterns. With over 50 tree species and a stunning range of wood colors, the patterns are exquisitely and tastefully expressed.
Originally, Hakone Yosegi Zaiku were produced as souvenirs sold on the famous Tokaido Highway, and the very earliest pieces show clear evidence of their high craftsmanship. In 1984, this form of marquetry was designated as a traditional craft by the Minister of International Trade and Industry, and is now so appreciated as intricate art work that they have outgrown the simple framework of souvenirs.

History
Marquetry already existed around the early years of the Heian period (794-1192) in the form of high-quality furniture and furnishings, but the seeds of Hakone Yosegi Zaiku were sown some centuries later in the Edo period (1603-1867), when the founder Nihei Ishikawa, living in Hatajuku, Hakone Town, made basic items often from one type of wood or with simple surface drawn patterns. In those days, the glorious arrays of color were still to come, but even so the plain wooden items produced as souvenirs sold at tea shops or hot spring resorts littered along the Tokaido Highway, were much appreciated by the common folk. By the end of the Edo period, many hikimono (lathe-turned) and sashimono (joinery) articles were being produced. Hakone, and it was then the marquetry artistry flowered with designs incorporating intricate and delicate patterns drawing upon the rich variety of tree types; designs still often seen today. With the addition of wooden toys and other crafts Hakone Yosegi Zaiku soon spread throughout Japan as woodcraft much loved by the ordinary people.
General Production Process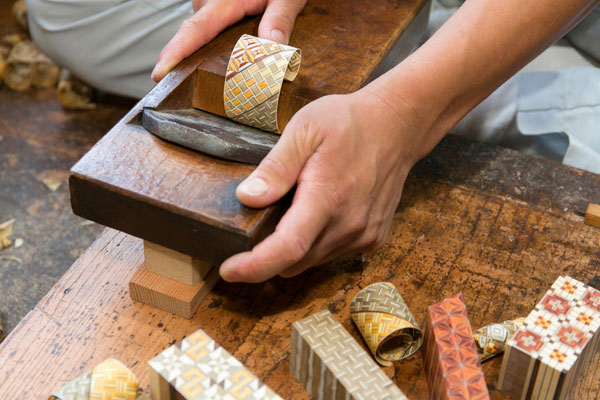 Leading Ateliers
Hakone wood mosaic Izumiya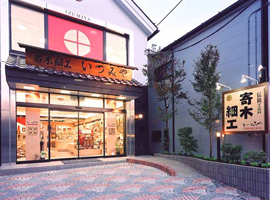 We create articles of rare beauty to make sure that our customers can enjoy the best Hakone wood mosaic items for a very long time.
Closed

Thursdays

Director

Eisaku NAKAZATO

Business Hours

10.30am to 4pm

Address

Tel.

+81-460-83-6030
Where to Buy & More Information
Hatajuku Yosegi Hall
Address

Tel.

+81-460-85-8170

Closed

Thursdays, December 28 to January 1

Business Hours

9am to 4:30pm

Website
See other Wood, bamboo crafts
See items made in Kanagawa