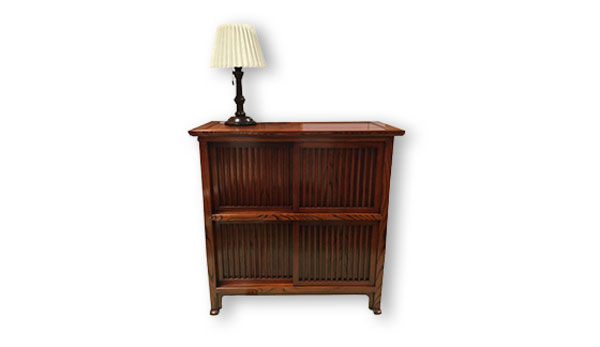 Wood, bamboo crafts
Nagano
Matsumoto furniture
Matsumoto kagu
Familiar designs in harmony with our living space
Warm furniture that ages gracefully

Description
What is Matsumoto furniture ?
Matsumoto Kagu is Japanese traditional furniture made in Matsumoto city in Nagano Prefecture and has been produced for over 300 years, since the Edo period. In the aftermath of World War II production of this furniture was temporarily suspended, but Sanshiro Ikeda, a renowned crafts spokesperson, went on to apply western furniture techniques to Japanese traditional furniture, which then evolved to become the modern warm Japanese and western furniture we see today.
Matsumoto Kagu is characterized not only by the natural beauty and warmth of the wood, but also by the traditional wood joinery of kumite-tsugite used in the assembly of each piece. Natural wood from Japanese cherry birch, chestnut, oak and zelkova is skillfully worked, assembled and lacquered to bring out a sense of depth and serenity. Worthy of particular mention is a chair modeled after the Windsor chair made in the frontier days of the United States; it is a quality product and a symbol of the robust and durable Matsumoto Kagu. Today this excellent furniture is much appreciated for both being contemporary and evoking feelings of nostalgia; with constant use it becomes warm and comfortably worn, giving a homely feeling to many people today.

History
Matsumoto Kagu was first produced in the castle town of Matsumoto in the middle of the sixteenth century, but it was not until the Edo period that it began to appear in the homes of ordinary people. Then, in the late Taisho period, Matsumoto started to prosper as one of the most famous areas for the production of traditional Japanese furniture, but was temporarily forced to suspend production from just before World War II.
In 1948, Sanshiro Ikeda, was inspired by a speech made by Muneyoshi Yanagi, the founder of the folk handicraft movement in Japan, and began to lead the former wood artisans and revived Matsumoto Kagu as a traditional Japanese furniture. People including a wood artisan, Keiichi Yasukawa and ceramists such as Shoji Hamada and Kanjiro Kawai, were involved in the training of artisans. In addition, in 1953, Bernard Leach came to Japan from the United Kingdom and taught production methods for the Windsor chair. It was thanks to the efforts of these men that Matsumoto Kagu revived, and then in 1974, it was designated as a national traditional craft for the first time in the furniture field by the former Ministry of International Trade and Industry. Today it is said Matsumoto Kagu has well over a thousand designs and is much appreciated by lovers of quality furniture.

General Production Process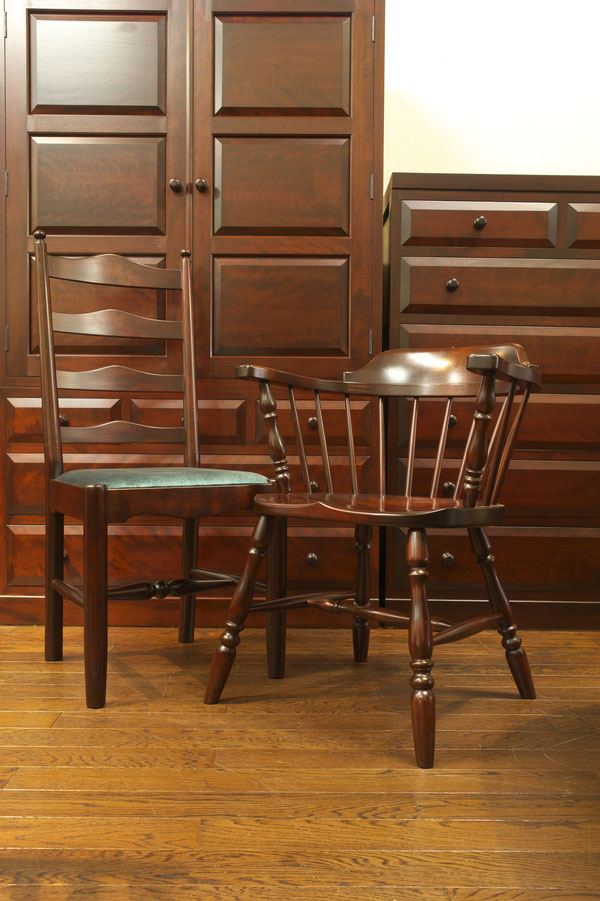 Photo:Shinshu・Nagano Prefecture Tourism Association
1. Wood As with any quality piece of craftwork the selection of first class materials is essential and the production of Matsumoto Kagu begins with the inspection of mainly Japanese cherry birch; other deciduous tree woods including oak, chestnut and zelkova are used according to their natural qualities and the beauty of their wood grain.

2. Natural drying The selected wood materials are cut at the sawmill and left in outdoor piles to dry naturally for anything from 6 months to 2 years, or even 5 or 10 years depending on the size of the timber. According to their classification and thickness the wood is left until the water content is less than 30%.

3. Artificial drying Once the water content has dropped, the wood is dried in a dryer for about 70-80 hours, until the water content is around 8-9%, indicating the wood is then seasoned and durable enough to make good furniture.

4. Pattern Design The patterns of Matsumoto Kagu are individually handwritten and drawn by craftsmen; first in small-scale, then full size and detailed drawings are made from sketches, and paper patterns and templates created from the drawings. A craftsman will make a pattern while imagining if each part of the article is in harmony not only with itself, but also with the type of place the furniture will be used.

5. Cutting to size After finishing the pattern design, the planks are cut to size. At first, craftsmen select the wood materials which match the purpose of the furniture and draw lines or marks on the wood. At the stage of cutting to size, the materials are cut horizontally and vertically or in a curved shape and then cut into thin planks.

6. Metal ornaments Any metal ornaments are made of copper and iron and cut according to the paper pattern and templates and hand filed to shape. The specially shaped parts including drawer handles are shaped by fire polishing and colored with heat-plating lacquer and floss silk and shined by polishing with wax.

7. Cutting joints Matsumoto craftsmen use a variety of joints, the main being tsugite and kumite; the skills to make them have been traditionally passed down for generations.

8. Assembly After the joints have been cut and chiseled the pieces are temporarily assembled; an important process to check for any defects. After adjusting any errors the piece is disassembled and glued ready for final assembly, followed by the smoothing of any rough areas.

9. Coating Once the glue has set, lacquer is applied by coating artisans. There are two kinds of coating method: lacquer and wiped lacquer coating, although wiped lacquer coating is mainly used because of its durability. Coating is done by hand and the furniture receives at least 8 coats; such extra care gives the furniture beauty and durability in long-term use and brings out the depth of the wood grain.
Any metal ornaments, lathe-turned parts and doors and drawers are fitted, before a thorough check that everything is working smoothly and closing properly. A final wipe and hand polish and another elegant piece of traditional Matsumoto Kagu craftsmanship is ready to grace a room.

Where to Buy & More Information
Matsumoto Folkcraft Museum
Address

Tel.

=81-263-33-1569

Closed

Mondays (open if Monday is a holiday and closed the next day), December 29 to January 3

Business Hours

9am to 5pm
See more Wood, bamboo crafts
See items made in Nagano