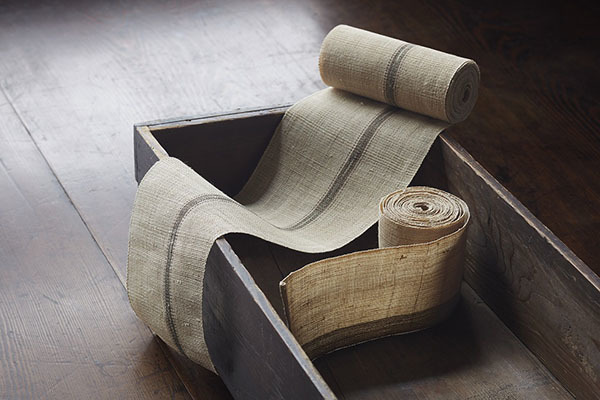 Photo:Showamura Ohnuma-gun, Fukushima
Oku-Aizu Showa Karamushi Textiles
Okuaizu showa karamushi ori
A unique top quality textile fabric,
light as the wind and cool as water
Description
What is Oku-Aizu Showa Karamushi Textiles ?
Oku-Aizu Showa Karamushi Textiles (Oku-Aizu Karamushi Ori in Japanese) are a textile fabric produced in Showa Village of Ohnuma, Fukushima Prefecture. It is made from ramie, which is an urticaceous plant also known as China grass. Fine hemp cloth made from ramie is also produced in Niigata, and Miyako and Ishigaki Islands in Okinawa, but Showa Village is the only place where ramie is produced in the main island of Japan. The ramie produced in Showa Village is especially known for its high quality. As it has a soft silky touch, it is used to produce summer clothing as well as a wide variety of sundries and accessories.
History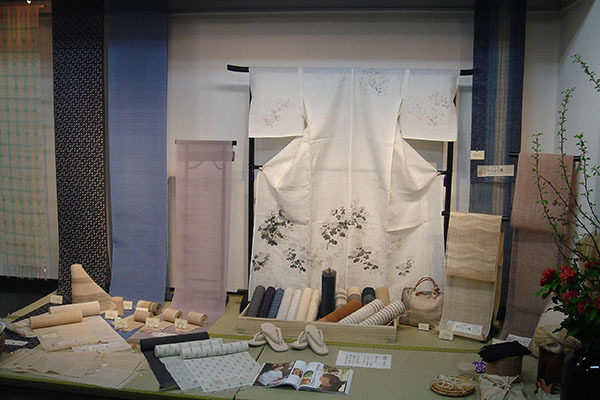 Photo:Showamura Ohnuma-gun, Fukushima
Ramie has been produced in Showa Village since the Edo period (1603 - 1868), and the fuedal lord of the Aizu domain, Masayuki HOSHINA especially encouraged people to produce ramie. Production of ramie supported the people's living in this high altitude, cold climate location. As the high quality ramie produced in Showa Village was used for fine hemp cloth Echigo Jofu and Ojiya Chijimi made in Niigata, it is said that merchants from Niigata came to buy ramie. Production reached its peak in the mid Meiji period (1868 - 1912), producing six tons per year, but declined in and after the Showa period (1926 - 1989) when demand for ramie decreased due to modern lifestyle and the spread of chemical fibers, endangering the existence of ramie production. In 1994, they recruited people to experience Karamushi textile weaving, and spent a year teaching them the whole process from growing ramie to producing the product. The village continues to preserve and hand down the skills and techniques and is putting effort into promoting production of the textiles.
General Production Process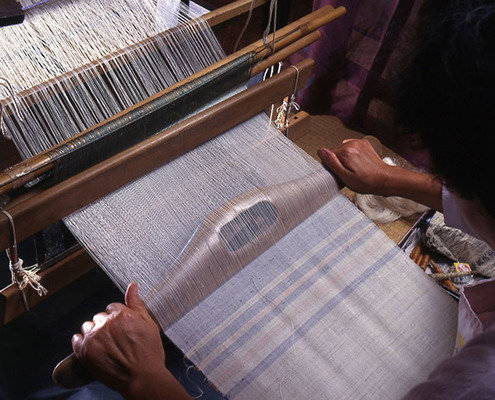 Photo:Showamura Ohnuma-gun, Fukushima
1. Peeling the skin The skin peeled from the ramie stalk are soaked thoroughly in water. The green skin on the surface is then scraped off on a scraping board with an iron scraper or other scraping tools and the ramie fiber is extracted.

2. Spinning the thread The dried ramie fiber is split into pieces by hand to the size of the desired thickness and is spun. The warp is twisted tightly while the weft is twisted slightly loosely.

3. Weaving The threads are woven into a fabric with a Japanese loom that sits on a table called jibata (sitting loom).

Where to Buy & More Information
Karamushi Crafts Museum
Address

Closed

Open all year round * May close temporarily, or for the year-end and new year holidays

Business Hours

9am to 5pm (Last entry 4:30pm)
See more Woven textiles
See items made in Fukushima